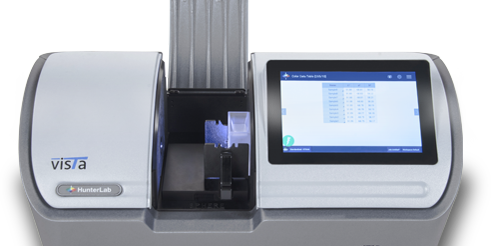 Color spectrophotometers are precise tools that measure color throughout production. Other types of spectrophotometers can also measure materials such as liquid, plastics, metals and more. Color quality checks occur in just about every industry for reasons such as branding and organization.
What Kinds of Spectrophotometers Exist?
Spectrophotometers come in multiple sizes to fit different operations. Portable spectrophotometers fit in your hand for mobile checkpoints around the lab. Benchtop spectrophotometers are sturdy fixtures that provide accurate color readings.
Finding a suitable device depends on your needs. The advantages of portable and benchtop spectrophotometers vary depending on what project you tackle. Each type has unique perks that it lends to perfecting color printing and distribution.
What Do Benchtop Spectrophotometers Measure?
A benchtop spectrophotometer can detect a larger range of variables that portable versions might not be able to. During goods production, it is necessary to measure color to adhere to brand and industry requirements. Benchtop spectrophotometers help workers produce the right color.
Benchtop spectrophotometers measure factors such as:
Transmission: Benchtop spectrophotometers can check for transmission measurements through liquids, which is something portable versions might not.
Defects: Benchtop spectrophotometers have a larger illumination spot, so they can average out imperfections such as lint or scratches that would skew your results.
Backing: Benchtop spectrophotometers have a built-in backing to prevent mistakes. Unless your object is completely opaque, you need a backing to make sure other items don't shine through.
Hazes: Benchtop spectrophotometers can detect hazes in plastics and other materials.
UV calibration: Benchtop spectrophotometers employ UV light calibration to offer consistency when working with optical brighteners.
Whereas portable spectrophotometers are adaptable in certain instances, these measurements come standard with benchtop spectrophotometers.