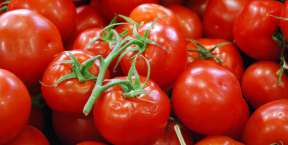 Lycopene is the 'redness" found in tomato products.
In fresh red tomatoes, Lycopene occurs as the major pigment (Lycopersicon esculentum, 85 – 90%). Other pigments present are beta-carotene (10- 15%) and small quantities of about 10 other varieties of carotenoids. The outer skin of the tomato contains the highest concentration of lycopene.
"Unlike other fruits and vegetables, where nutritional content such as vitamin C is diminished upon cooking, processing of tomatoes increases the concentration of bioavailable lycopene. Lycopene in tomato paste is four times more bioavailable than in fresh tomatoes. For this reason, tomato paste is a preferable source as opposed to raw tomatoes." – wikipedia.com
The lycopene content of tomatoes is dependent on plant species and growth location, and increases with ripening as the season progresses.
Traditionally, lycopene has been extracted from tomato skin (also called tomato pomace) or paste/purée and a correlation to lycopene concentration developed based on HLPC or spectrophotometric transmission measurements using a 10 mm path length cell.