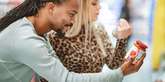 Tomato sauce is a thin tomato product with garlic, onion, herbs, and spices used as a base for sauces and dishes. Food manufacturers must create quality tomato sauce to establish a good reputation, gain loyal customers and increase sales. Color consistency encourages consumers to choose your tomato sauce every time they make their favorite recipe.
Measuring tomato sauce color increases consumer adoption in these ways:
1. Ensures Consistency
Consistency in your tomato sauce color — and its overall quality — creates a sense of safety for your customers. Consumers are familiar with a product's desired color and expect your tomato sauce to match that image. If it does, they can use it confidently, knowing your product contains fresh, high-quality ingredients. 
2. Builds Brand Trust
The correct tomato sauce color fosters trust in your brand, leading to more future purchases. Consumers will expect the best quality products from your brand every time they purchase. When your tomato sauce is a consistent color, your customers will believe your company excels in other areas too. Their trust in your brand can lead to more sales for your company.