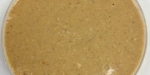 Commercial grade peanut butter
The USDA quality system assigns peanut butter quality rating of USDA Grade A, Grade B and Other based on 4 attributes that total 100 points.
Color – 20 points
Consistency – 20 points
Absence of defects – 30 points
Flavor and aroma – 30 points
All four quality characteristics are based on sensory qualification but color can be quantified.
The USDA Peanut Butter Color Standards are a set of 4 plastic chips that serve as visual guides used for defining the color of processed peanut butter defining USDA Grade A (2 to 3 Medium Brown) between too light (1 Light Brown) and too dark USDA Grade B (4 Dark Brown).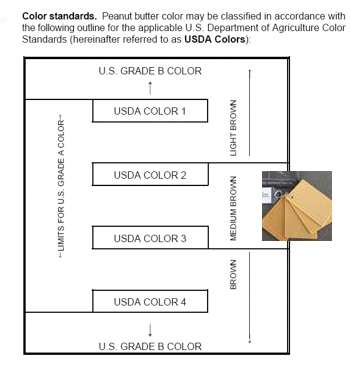 USDA Peanut Butter Color Standards
The reference document for these US Peanut Butter Color Standards is:
US Standards for Grades of Peanut Butter – February 5, 1972
Available on internet as a US Federal Standard from USDA/AMS GSA Washington, DC USA www.ams.usda.gov
Information on this method comes from:
Processed Products Branch
Fruit and Vegetable Division, AMS
U.S. Department of Agriculture
Washington, D.C. 20090-6456 USA
www.ams.usda.gov