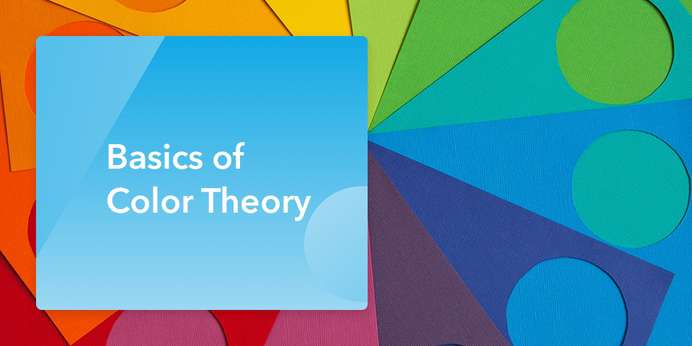 Color theory is all around us — in the products we use, the images we see and the nature in our backyards. Understanding color theory is critical to anyone in design, and it plays a crucial role in product development and brand imagery. Even color theory psychology is a growing trend. So what is it exactly?For starters, modern color theory has no shortage of definitions, but generally, it refers to the concepts behind our perceptions of color. So, to understand the basics of color theory, you must know how colors work.
What Is Color?
The way we perceive color makes it seem like the objects around us all have inherent visual properties attached to them. For instance, an apple is red, grass is green and the sky is blue, with little deviation.
What we find out, however, is that color is a matter of perception. It requires three things:
An object
A light source
An observer
The light source can be natural or human-made, and the observer doesn't necessarily need to be a living creature — it can also include machines like cameras and spectrophotometers.
When light bounces off an object, photons and electrons interact, with electrons absorbing or reflecting the light. In the process of reflection, the electrons release specific wavelengths of energy that correspond to certain colors, which our brains process.
How Do We See Color?
While light reflections release specific wavelengths, our brains interpret them as the colors we know and love. First, the reflected light enters the eye through the cornea. Then, a lens focuses it into the retina, the layers of nerve cells at the back of the eye.
The retina contains cells called photoreceptors, mainly rods and cones, that detect light waves.
Rods activate in low or dim light and do not process colors.
Cones activate in bright environments and contain specific pigments that correspond to our perceptions of red, green and blue.
These photoreceptors weave their way to the brain, connecting the communication patterns from the neurons in the retina to the brain.
Color vs. Appearance
In the common vernacular, color is typically a characteristic of appearance. For our purposes, appearance refers to surface features, like gloss and texture.
As light reflects off an object, it can take a few differing paths, based on the smoothness of the surface.
Specular reflection: Specular reflections occur on surfaces with relatively few imperfections. You might see specular light in a still lake. It would reflect the trees and the clouds above it, so you could make out the image.
Diffuse reflection: A diffuse reflection is much more common. It happens when the surface is rough or textured. The light reflects in random directions and won't maintain an image of the source light.
Combinations: Both specular and diffuse reflections can occur at the same time. Usually, this happens with scattered light distributed in a specific group. Semi-gloss and textured metals are an example of these mixtures. You may be able to see a low-resolution reflection of the image around it.
These surface characteristics can influence how we interpret color. For instance, coarse texture is going to reflect the light in more directions and appear lighter in color than a smooth, high-gloss surface. This effect occurs because less of the light is reaching your eyes when it scatters.